With all of the electronic equipment we use today, including TVs, game systems, computers, mobile devices, stereos and other music streaming devices, as well as the myriad of electronics in every appliance in your home, you need protection from power surges. The value of these items usually reaches thousands, if not tens of thousands of dollars. Protecting your home from surges not only helps prevent blow-outs, but it also extends the life of those items under the regular daily fluctuations in your electrical current.
If you're in Raleigh, North Carolina or the nearby areas, contact Wiretech Company today to assess your house for proper surge protection. There are two types of home surge protectors — primary and secondary — and we will install these systems in your home for total protection.
Who Needs Whole House Surge Protection Services?
While individual surge protectors provide point-of-connection protection for small items and equipment, they don't last forever — in fact, they can wear out prematurely if overloaded, leaving anything plugged in exposed to surges. They also can't protect larger items that plug directly into the wall, like appliances.
Both small and severe surges happen for various reasons and can leave your building vulnerable without the right protection:
Minor surges: Minor surges are barely noticeable and are typically caused by loose wires, load switching or a general malfunction. While they might appear like a small flash or momentary lapse in connection, there's more going on behind the scenes. Repeated surges can wear at delicate connections, ultimately damaging the item plugged in if left unchecked.
Large surges: Large surges are easily recognizable and, oftentimes, dangerous. Lightning, utility line damage, poor wiring and overload can trigger a heavy surge that will likely continue through the item it's connected to, whether that's a refrigerator or a life-saving device.
Whole house surge protection installed by an electrician offers more robust protection for the items in your home, business or industrial building. With this equipment, you can benefit from the peace of mind that comes with added protection.
Residential Applications
If you're a homeowner, you might consider whole house protection if you have one or more of the following:
Smart devices that would be expensive to replace
An HVAC system or other heating and cooling device
Electric stovetops and ovens
A washer and dryer
Expensive computer equipment or other electronic devices
Commercial and Industrial Applications
If you own or operate a commercial or industrial building, surges can mean the difference between operation and delays in delivering critical care. Consider more comprehensive surge protection if you rely on:
Emergency lighting, heating or cooling
Complex computer systems and circuit boards
Electric machinery
Electric appliances and smart equipment
Data centers
Temperature-controlled devices or rooms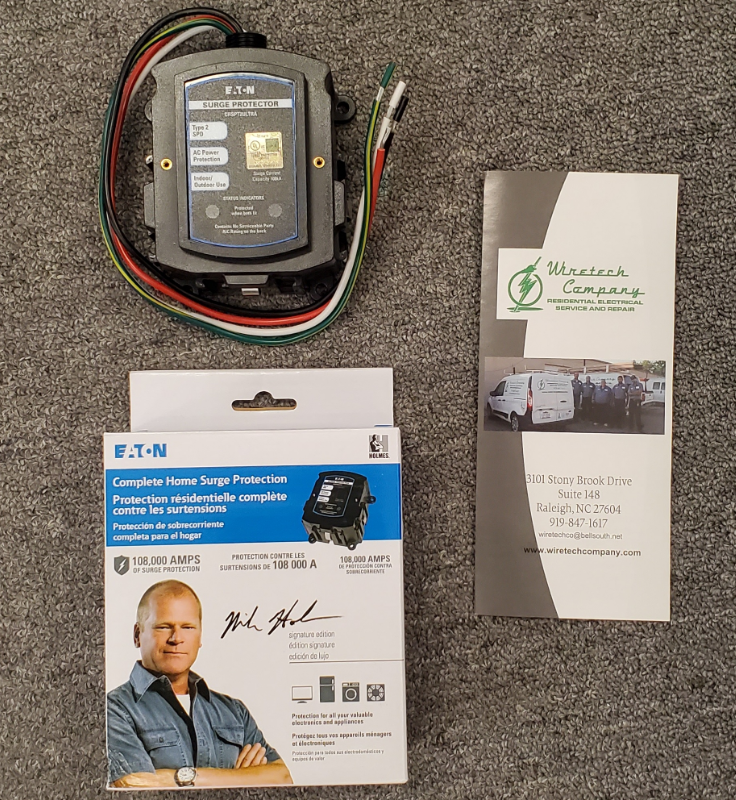 There are two types of home surge protection:
Our whole house surge protection program has both a primary and secondary layer to give you peace of mind and keep your property safe from surges of all sizes.
What Is Primary Surge Protection?
Primary surge protection devices are the first line of defense against power surges. They are installed at your electrical service panel and building entrance to protect you from nearby lightning strikes and general power surges from your utility company. These devices are hardwired to provide a higher surge rating than secondary surge protection devices and can be installed anywhere on the load side of the electrical system or service entrance with no fuse or breaker required.
Primary Surge Protection Devices
We use Eaton and Sycom surge protectors for our primary surge protection installation services in Raleigh, Chapel Hill, Durham and the surrounding areas to take the larger surge voltages down to 130 volts.
What Is Secondary Surge Protection?
Have you ever noticed that when your air conditioner comes on, or you start up your vacuum cleaner, the lights will blink or dim for just a second? That is a secondary surge that is created by the sudden large electrical demand in your electrical system.
This sudden additional load, or power surge, is not protected by the primary surge protector at your electrical panel, because it is inside the house. The secondary surge protector will protect buildings, people and electronic devices from power surges that occur past the primary surge protection. Like primary surge protectors, they are also a permanent hardwired device connected on the load side of the primary overcurrent disconnect, and they do not always need a dedicated breaker or fuse.
Secondary Surge Protection Devices
We use Leviton surge receptacles for our secondary surge protection installation to protect from the secondary surges, giving you complete surge protection throughout your home.
Benefits of Whole House Surge Protection
If you have a direct lightning strike hit your home, there is nothing man-made that can protect you. But surge protectors will protect you from 99% of all other surges inside and outside of your home.
Whole house surge protection devices connect to your home's electrical service box and provide top protection for your home. They are designed to divert large power surges without damaging their components, and they can last for years.
A power surge can enter your home through devices like the HVAC system, cable and generator. Using metal oxide varistors, the surge protection system will short the surge to the ground or block its flow.
These systems are beneficial to have because:
It will protect your technology devices: Homes have many laptops, tablets, smartphones and other gadgets that contain valuable information. These devices, along with appliances and even lightbulbs, can be damaged from a power surge. Surge protection ensures these devices won't be affected and will continue to function as normal.
It will protect against internal power surges: Many power surges are short and originate from a home appliance. One surge is not damaging, but many over time can cause wear and tear on your electronics. A whole-house surge protection system mitigates this damage to avoid long-term consequences.
It safeguards your entire electrical system: When the surge protection system detects a surge, it sends it back through the breaker panel and shunts the power. This system protects your appliances and electronics as well as every outlet.
You can use layering for additional protection: If you use shared circuits, an appliance on that circuit can compromise everything on that circuit if it sends out a surge. Layering your surge protection system means there is a direct connection between the electrical panel and the point of use for extra protection.
Adding this protection system to your home requires contracting professional experts from an electrical company since the work may be hazardous if you don't have experience. For your whole house surge protector installation needs, contact Wiretech Company.
Schedule Your Surge Protection Device Installation
Wiretech Company has been the trusted electrical contractor for Raleigh, Durham, Chapel Hill and the greater Triangle area since 1990. As a locally owned and operated business, we are committed to serving our community with primary and secondary surge protection installations and repairs. Whatever your electrical needs, we're the experts to call.
Schedule your home surge protection installation in Raleigh today by calling 919-847-1617 or completing our contact form.