Most homeowners have never experienced an alarming electrical malfunction. But when you do, it may be too late. In our experience with Raleigh area homeowners, an electrical safety inspection often surprises them after discovering multiple conditions that are shock hazards and/or fire hazards. One example is 1960's and 1970's era homes that have aluminum wiring.
When it comes to older homes, there is nobody better than Wiretech to handle your electrical repairs and upgrades. Owner Mike Jones and his crew have extensive experience doing electrical work in older homes and they take special pride in their deep knowledge of older electrical systems and the unique challenges in upgrading the wiring and circuitry in older homes.
An Electrical safety inspection is included as part of our Home Value Plans. Learn more!
Give yourself peace of mind that your electrical system is safe and secure by checking out the information on this page... and then give us a call.
Electrical Safety Inspection Articles
When is it a good idea to get an Electrical Safety Inspection for your home?
If your home is 20 years old or older
If you've ever smelled something burning that you could not identify or locate
If your home has aluminum wiring
If there is evidence that additional electrical work has been done in your home by a previous homeowner
If you're getting ready to sell your home
If you see anything electrical that looks shoddy or concerning such as covers missing, exposed electrical wires, electrical equipment hanging off of the wall
If you have small children in the home
And lastly, if you want peace of mind that your electrical system is safe and secure on homes of any age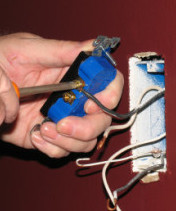 It is not uncommon to find open junction boxes or splices that can create both a shock hazard and a fire hazard. We also find loose connections at receptacles, junction boxes and in service panels which can start arcing and create a great amount of heat that can lead to a fire.
Two of the things we look for are the installation of properly functioning smoke detectors and carbon monoxide detectors as required by the NC Building Code.
We also look for properly sized light bulbs in the light fixtures. People ask, what could an improperly sized light bulb do? When a light bulb exceeds the listed limits on the light fixture it can, over time, create enough heat to cause the insulation around the wires of the light fixture to crystalize, become brittle and break away from the wire itself causing the wire to be exposed and be a potential shock and/or fire hazard, there is a reason a light fixtures says "use a maximum __ wattage bulb".
Overall, there are many things in your electrical system that can be dangerous and hazardous. Hiring a qualified electrician to inspect your electrical system is the safest way to get peace of mind that your home is safe and functioning properly from an electrical stand point.
Check All Switches And Receptacles For Proper Operation and Secure Connections
Check All Light Bulbs To Make Sure They Are The Proper Wattage Per The Light Fixture Specifications
Check All GFCI (Ground Fault Circuit Interrupter) Receptacles or Circuit Breakers For Proper Operation and Secure Connections
Check All AFCI (Arc Fault Circuit Interrupter) Circuit Breakers For Proper Operation and Secure Connections
Check All Smoke Detectors And Carbon Monoxide Detectors For Proper Operation And Replace Batteries If They Are Battery Operated
Check All Connections And Do An Inspection Of All Service Equipment To Include: Service Panel, Air Conditioner Disconnects etc.
Check That Proper Grounding Is In Place For Entire House
We Will Send The Customer A Full Report Of Our Findings And Any Recommendations We Have For Repairs Or Possible Safety Upgrades That Are Not Already In Place