Wiring for Home Additions, Remodeling and Renovations
If you want to finish off your attic or basement, put on an addition or remodel a room, call Wiretech Company for your electrical wiring. Wiretech Company is the local home electrical expert in Raleigh for new wiring for residential remodeling, renovations and additions.
We have many years of experience and have worked for some of the largest remodeling companies in the Raleigh area. We maintain an unlimited electrical contractor's license and are fully insured. With Wiretech Company, you can be confident that your work is done with the highest level of competence, safety and professionalism available.
If you have wiring needs for residential remodeling in the Raleigh, North Carolina area, call Wiretech Company today to review your project with our electricians.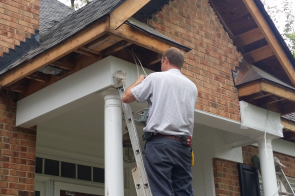 Wiring for Home Additions, Remodeling and Renovations
Electrical Materials Required
Any kind of addition, remodel or renovation will likely require new electrical wiring. To get started, look at a scaled floor plan of the area to plan your power supply needs. Smaller additions can be added to your home's main service panel, and large additions may require a sub-panel to reduce the number of supply wires and provide a location to shut off the power in an emergency. Some tools needed include a wire cutter and stripper and a drill.
Wiring Equipment Used
The wiring equipment needed depends on the wire gauge and number of conductors. The first number in the wiring type name is the wire gauge and the second is the number of conductors. 14/2 wire is common for standard lighting circuits on a 15 amp breaker, and 12/2 wire is used for heavy demand circuits on a 20 amp breaker.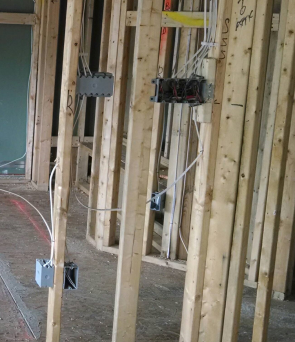 Home Renovation Wiring Process
Residential wiring should be installed between the installations of the outer sheathing and drywall and after the plumbing installation. This timing will keep your wiring protected yet easy to access to make any changes. While a DIY enthusiast could wire a home addition, we recommend calling electrical professionals to complete the work for accuracy and safety.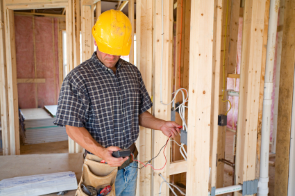 The wiring process involves the following steps:
Mark the box location on the stud at its center.
Nail the box so it will be flush with the wall.
Drill a hole through the framing 8 inches above the box.
Thread the cable through the hole.
Remove 12 inches of sheathing from the cable.
Put a hole in the knockout area of the box, then push the wire into the box until there is 1/4 inch visible sheathing.
Run the cables to the service panel and label them with their circuit location.
At this point, you will need to call a Wiretech Company electrician to connect the circuits. Our team will check your wiring to make sure it is up to code and complete the installation.
Raleigh Electrical Permits and Inspection
Before your home wiring is complete, you will need to make sure it meets local code. The local code will determine factors like outlet spacing and ground and circuit requirements. You may need to obtain a building permit and have an electrical inspection performed before you receive your certificate of occupancy.
Wiretech Company has served the Raleigh area since 1990, and we are experts in Raleigh permit and inspection requirements. We will help ensure that your addition, remodel or renovation is up to code and provide solutions to meet all of the requirements.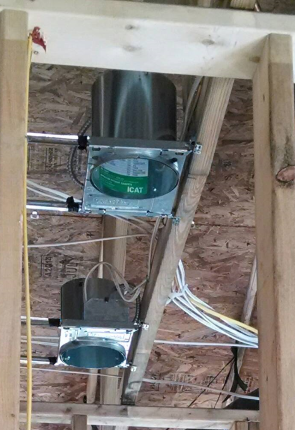 Call Us for Wiring for a Home Renovation in Raleigh
Wiretech Company is the top electrician in Chapel Hill, Raleigh, and Durham for wiring systems in home additions and renovations. Contact us online or call 919-847-1617 to schedule a system inspection or wiring service today.