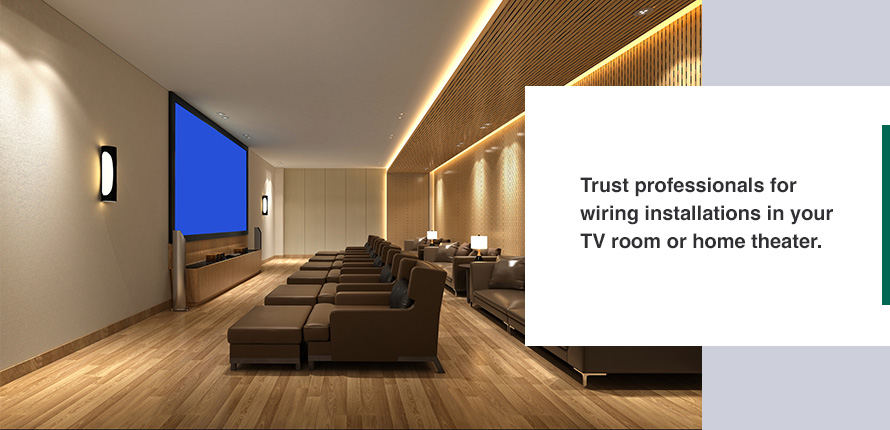 TV Wiring Capabilities
If you have a vision for an ideal TV setup that will serve your living room aesthetically and functionally, we are just the people to help you mount and wire everything. We know how to install everything, including surge receptacles and HDMI cables.
Wall-Mounted TV Wiring
If your mounted TV shows off tangled cables and wires against drywall, hiding the cords can make your space more attractive and keep everything organized behind the TV. You'll need a professional for any wires above a fireplace. Our team will arrange your setup and ensure the cables are placed safely.
Concealing TV Wiring
The best and most effective method for concealing TV wiring is to run the cords behind the wall. We will find a stud-free section of the wall for you and carry out any work necessary, including making the required cuts to make space for any cords that don't fit into the section you wanted.
Benefits of Home Theater Wiring Services
Every piece of home theater equipment has specific wiring requirements, and our professionals meet those specifications while making your entertainment space look sleek. We recommend that you pre-wire your home theater to ensure you have ample room. When installing your setup, we can:
Conceal Audio Wiring
We will eliminate tripping hazards from any audio wiring in your home theater setup.
Install Surge Protection
Our team will install surge protection to keep your setup safe during power fluctuations, saving you time and money.
Your Source for Home Theater Wiring Installation Services
We are your go-to expert electrical wiring business. Wiretech Company has served the greater Triangle area with professional wiring installation for decades. Contact our team today to learn more about how we can improve your home theater or TV setup.