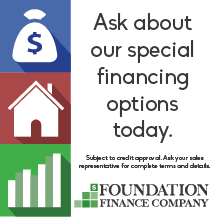 Don't compromise the safety of your home and your family because you're worried about costs. In partnership with Foundation Finance Company, we at Wiretech Company can help you obtain reliable consumer financing for your electrical repairs so you never have to go without. You may be eligible for a revolving line of credit or an installment loan with a variety of repayment options. Financing is subject to credit approval.
Why Foundation Finance?
Foundation Finance Company offers flexible, convenient consumer financing programs for a range of people. Some benefits include:
They can approve A-B-C-D credit, unlike most other "approve or deny" lenders.
All loans are decided in house by experienced credit analysts.
Paperwork can be generated online.
Credit approvals can be granted in just minutes.
The customer service team is experienced & ready to help.
Learn more about Foundation Finance Company, and contact Wiretech today to discuss your electrical repair needs and find out if you're eligible for financing your repairs!