Fire Hazard
Old Circuit Panel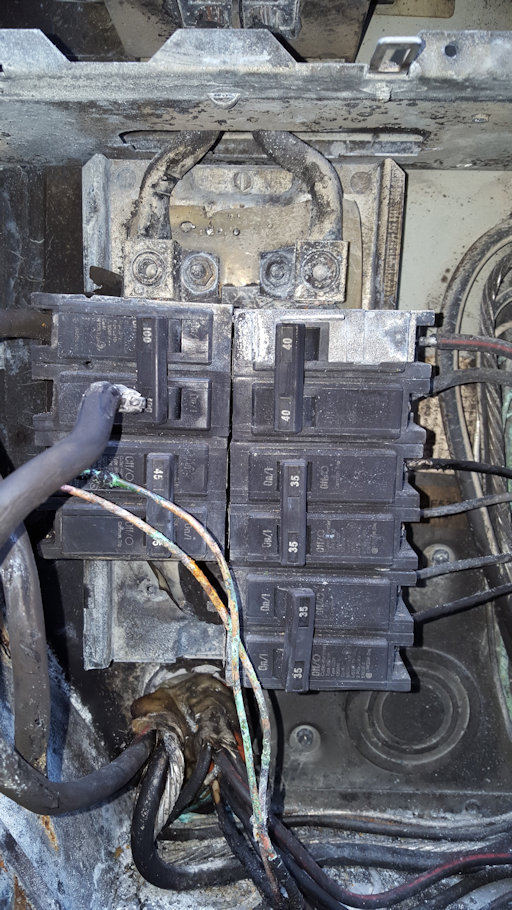 The electrical service panel, or circuit breaker panel, is the heart of your home electrical system.  Also known as a breaker box, electrical box or even a fuse box, the service panel's main function is to take electricity supplied by the utility and distribute it throughout the home to power lights and receptacles.
If there is a problem with your electrical service panel you will be without power somewhere. We recommend that you have your service panel checked yearly for loose connections and corrosion which can cause major problems with your household electrical service.
IMPORTANT NOTE: There are two manufactures of older circuit breaker panels that are known fire hazards (see the next tab). If you have an FPE (Federal Pacific Electric) circuit breaker panel or a Zinsco/Sylvania circuit breaker panel they need to be replaced due to possible fire hazards and known break downs.
Wiretech Company installs top quality Cutler Hammer Type CH Electrical Service Panels which carry a lifetime manufacturer's warranty.
ELECTRICAL FIRE HAZARDS
http://inspectapedia.com/fpe/FPE_Stab_Lok_Hazards.php
Excerpts: Learn about fire and shock hazards associated with Federal Pacific Electric Stab-Lok® circuit breakers and service panels. Some FPE circuit breakers can fail to trip in response to overcurrent, leading to electrical fires. In some cases failure to trip occurs 60% of the time - a serious fire and electrical shock hazard. The breakers may also fail to shut off internally even if the toggle is switched to "off." The hazard is worst for double-pole breakers. [Learn more]
http://inspectapedia.com/electric/Zinsco_Electrical_Panels.php
Excerpts: Certain Zinsco electrical panels, circuit breakers and electrical components and certain Sylvania electrical panels and breakers have known dangers of electrical shock hazards, dangerous electrical arcing and electrical fires. Expert testing on this equipment has shown that these circuit breakers do not trip about 25% of the time when exposed to overcurrent - risking overheating, fire and other hazards. The failure rate of competitive-brand circuit breakers is much less than 1%. [Learn more]
---
Call Wiretech Company to inspect your electrical system to assure that it is safe and meets current electrical codes.
Modern & Safe
New Circuit Panel