Wiretech can replace any electrical outlet in your Raleigh area homes with outlets that are safer, more convenient, more functional, and that even complement your decor. Check out a variety of the electrical outlets that we offer below. Call us for more information!
Listen to our 16 second radio spot:
Electrical Outlet Repair Articles
DIY Electrical Safety Checklist + Video

• Electrical Safety Checklist For Your Home • As a homeowner you know that electrical safety is important, yet most of us take it for granted. We just assume that everything is safe until we notice a problem. But by that point, something that could have been prevented might already have turned into a dangerous […]

Electrical Safety and GFCI Outlets

Hacked By Not Matter who am i ~ i am white Hat Hacker please update your wordpress […]
Recessed Electrical Wall Outlet Boxes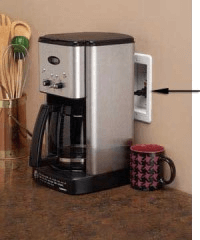 Arlington's new, recessed IN BOX™ electrical outlet for indoor use allows items such as furniture – or countertop items like coffee makers or microwave ovens to be placed closer to the wall.
Tamper Resistant Electrical Outlet
In 2008 the National Electrical Code® (NEC) was revised to require tamper-resistant receptacles in new homes. Using spring-loaded shutters that close the contact openings, or slots, of the electrical outlet, both springs must be compressed at the same time by the metal prongs of the plug. So the shutters will not open when a child attempts to insert an object into only one contact opening, and there is no contact with electricity.
A Tamper Resistant Electrical Outlets generally does not look different. But you'll know it's a tamper resistant outlet because at first, it feels difficult to push a plug into it.
Ground Fault Circuit Interrupter (GFCI) Outlet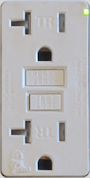 CFCI receptacles are designed to automatically and instantly switch off when an electrical fault is detected. While they cannot remove all risk of electric shock or fire, ground fault circuit interrupters, when working properly, significantly reduce the risk of serious injury and fires. The National Electrical Code (NEC) requires GFCI outlets in places such as bathrooms, garages, kitchen counters, crawl spaces and unfinished basements, near wet bars / sinks, near laundry sinks, near hot tubs/spas, etc.
Recessed Electrical Outlet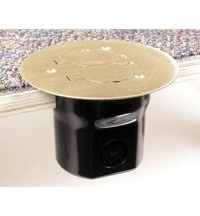 A recessed floor electrical outlet gives you the ultimate convenience in any large room. You can plug in your table lamps without an extension cord running across the room. You can plug in your personal electronics even when you're not sitting near a wall outlet.
Recessed TV Outlet Box
Get those cords out of the way with a recessed TV Outlet Box. By moving your connections into a recessed outlet box, your coaxial TV cord, ethernet CAT5 internet connection cord, phone cords and electrical cords will be out of the way. Plus, your furniture will be able to be more flush against the wall.