Wiretech Company can replace any electrical outlet in your Raleigh area home with outlets that are safer, more convenient, more functional, and even complement your decor. Check out a variety of the electrical outlets that we offer below. Call us for more information!
Recessed Electrical Outlet
A recessed electrical outlet has deep-set outlets and a low profile frame, making it a practical choice for any room in your home. They are available in many finishes to match the room and have several configurations and port options.
Homeowners enjoy the advantages of recessed electrical outlets, such as:
Placing furniture closer to the wall:

 A recessed floor electrical outlet gives you the ultimate convenience in any large room. Because the plug does not stick out from the wall, furniture can be moved closer to the wall to create more space.
Extra kitchen counter space: Recessed outlets in a kitchen allow coffee makers or microwave ovens

 to sit closer to the backsplash, leaving more useful counter space.

Safe for bathrooms: Recessed outlets are out of the way, which is important for outlets in bathrooms or near other wet areas.
Eliminates trip hazards: Recessed outlets make it easier to hide cables, so they aren't a trip hazard. You can plug in your table lamps without an extension cord running across the room. You can plug in your personal electronics even when you're not sitting near a wall outlet.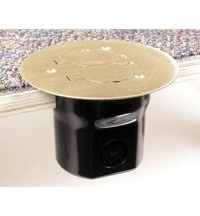 Recessed Electrical Wall Outlet Boxes
As long as you have room behind your existing outlet, recessed plugs can be installed at nearly every outlet in your home. The outlet installation process involves several steps:
Turn off the circuit to the existing outlet.
Remove the outlet cover and outlet. Detach the wires.
Use a pencil to mark the recessed outlet box's location, making sure it is level and aligned with the stud.
Remove the existing electrical box.
Insert the new box and thread the wiring to the clamps and pull through. Tighten the retaining tabs.
Wire the new outlets, trimming the old wire and attaching to the correct screw.
Secure the cover plate, receptacle and trim, then restore power.
Many areas of the home can benefit from recessed plug installation, including the:
Kitchen
Bathroom
Living room
Entertainment center
Outdoors
Wiretech Company uses Arlington's new, recessed IN BOX™ electrical outlet for indoor use, allowing large items such as furniture or countertop items to be closer to the wall.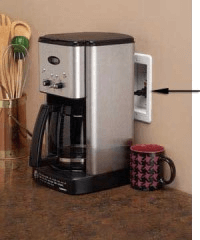 Tamper Resistant Electrical Outlet
Tamper-resistant outlets have safety mechanisms inside to prevent electrical shock and fires. The National Electrical Code® (NEC) was revised in 2008 to require tamper-resistant receptacles in new homes. Tamper-resistant electrical outlets generally do not look different, but you'll know it's a tamper-resistant outlet because at first, it feels difficult to push a plug into it.
It works by using spring-loaded shutters that shut the electrical outlet's contact openings (slots). Both springs must be compressed simultaneously by the plug's metal prongs. The shutters will not open if a child puts an object into one slot, and there is no electricity contact.
They are a permanent and effective solution in place of temporary, unreliable fixes. It will decrease the risk of electrocution and electrical fires, as well as help keep curious children safe from dangerous electricity.
A professional electrician, like the team at Wiretech Company, needs to install your tamper-resistant electrical outlet replacement in your Durham, Chapel Hill or Raleigh home. Electricians are trained to complete the work safely and in compliance with building code.
Recessed TV Outlet Box
Get those cords out of the way with a recessed TV outlet box. This outlet style will fit your various TV and connection cords while offering top surge protection. They are great for wall-mount flatscreens and offer many benefits. You can:
Easily manage your cables: By moving your connections into a recessed outlet box, your coaxial TV cord, ethernet CAT5 internet connection cord, phone cords and electrical cords will be out of the way.
Keep your furniture closer to the wall: With the TV cords tucked away, your furniture will be more flush against the wall.
Have a neat-looking TV area: Your living space will look tidy with no visible cords lying on the floor or peeking out from behind furniture.
Ground Fault Circuit Interrupter (GFCI) Outlet
A GFCI is required in any areas with an increased risk of shock due to electrical hazards, such as water. In order to protect you from electrical hazards, a GFCI monitors electrical current, turning off an electrical circuit when it detects an imbalance - current flowing along an unintended path.
The NEC requires GFCI outlets in wet and damp places, such as:
Bathrooms
Garages
Kitchen counters
Crawl spaces and unfinished basements
Wet bars and sinks
Laundry sinks
Hot tubs and spas
Their main benefit is that they will protect people from electrical shock and injury. While they cannot remove all risk of electric shock or fire, GCFIs, when working properly, significantly reduce the risk of serious injury and fires. They can also help your home meet modern electrical code for additional safety.
A professional electrical outlet installation is highly recommended for GFCI outlets to ensure the outlet is installed properly and will perform as expected.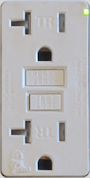 Contact Wiretech Company for Electrical Outlet Replacement Services
Wiretech Company is the nearby, go-to expert for all things electrical. We can provide an electrical outlet box replacement or repair a non-working electrical outlet in Raleigh, Chapel Hill, Durham or any home in the greater Triangle area.
Get in touch with Wiretech Company today to schedule your appointment. Fill out our online contact form or call 919-847-1617.
Listen to our 16 second radio spot: