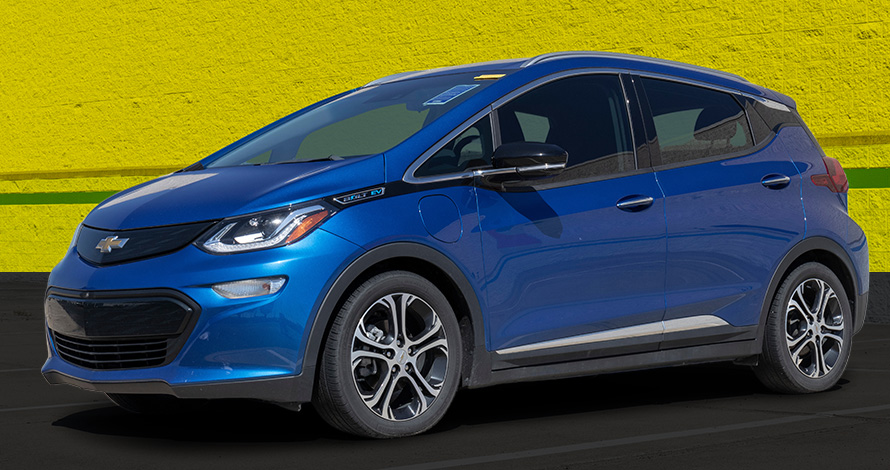 Most Affordable Electric Vehicles for First-Time EV Owners
As a first-time electric vehicle owner, you want to make a cost-effective and worthwhile investment. The competitive EV market continues to drive down the cost of owning an electric vehicle. Many electric cars offer high performance, comfortable drive and innovative technology at budget-friendly prices. They also provide compatible at-home charging options, making your first EV more economical, enjoyable and valuable.
10 Cheapest EVs in 2023
Price, efficiency, safety, design and comfort are essential when buying an electric vehicle. Automakers are stepping up to meet consumer needs in the growing EV car market. Brands like Nissan, Tesla, Hyundai and Kia offer efficient and cost-effective EV models. With so many options, you can select an affordable EV to meet your budget and style.
1. Chevrolet Bolt EV
The Chevrolet Bolt EV starting prices range between $25,000 and $27,000. It offers refreshed looks from the 2022 model with front-light design upgrades. With impressive safety features and a stylish interior, Chevy is an ideal brand for your first-ever EV. It also has 200 horsepower and long-range driving, traveling 259 miles on a full charge.
The Bolt has standard DC fast and dual-fast charging compatible with home chargers. While its cargo area might be smaller than other brands, it makes up for it with tech safety and efficiency features. Some additional features include:
Cruise control
360-degree camera
Hands-free driving
Enhanced interior
Instrument panel fitted with a touchscreen
2. Nissan Leaf
With a starting price of $28,000, the Nissan Leaf is one of the most economical and widely available EVs. The Leaf has an excellent EPA range for its price, giving you 149 miles of driving on a full charge.
The Leaf has comprehensive features like temperature control, a blind-spot warning system, an eight-inch touchscreen and automatic brake controls. It also offers a 40 kWh battery and 190 horsepower. This EV provides a comfortable drive and is ideal for daily commutes. Other noteworthy features include:
Built-in navigation
Voice command integration
3. Mini Cooper SE
The Mini Cooper SE has a sporty two-door design and an economical price range between $29,000 and $31,000. It has an EPA-estimated range of 110 miles per charge. Among the Mini's most attractive characteristics is its quick charging, especially when paired with the wide availability of DC chargers across the U.S.
While the Mini's EPA range is less than other electric vehicles, it offers a fun drive and aesthetic appeal. The Mini Cooper SE can be an affordable leisure option for anyone who wants an EV to cruise around in their spare time. Additional features include interior gadgets like digital instrument panels and a touchscreen.
4.  Mazda MX 30
The Mazda MX 30 is perfect for drivers searching for an attractive and affordable EV. Prices start between $33,000 and $35,000 for this sleek electric car. Its most noteworthy features are an eco-friendly interior, luxury design, smooth driving and a sunroof. However, the MX's EPA-estimated range is only 100 miles per charge, lower than most EVs. It is also only available in California, so if you live elsewhere, you must ship it to your state, making it costlier. Other features include:
Blind-spot monitoring system
Navigation system
Adjustable headlamps
5. Kona Electric
If you want an EV that offers a distinctive design and a long battery life, the Kona Electric is an excellent choice. Starting prices range between $33,000 and $34,000. The Kona Electric has an EPA-estimated 258-mile driving range and a stylish interior and exterior.
The SUV offers features like DC fast charging. However, the Kona is only available in select states, making it challenging to find. It also provides limited cargo and backseat space, so it's more suitable for work commutes than family trips. Noteworthy features include:
Digital touchscreen
Wireless charging
Extended warranty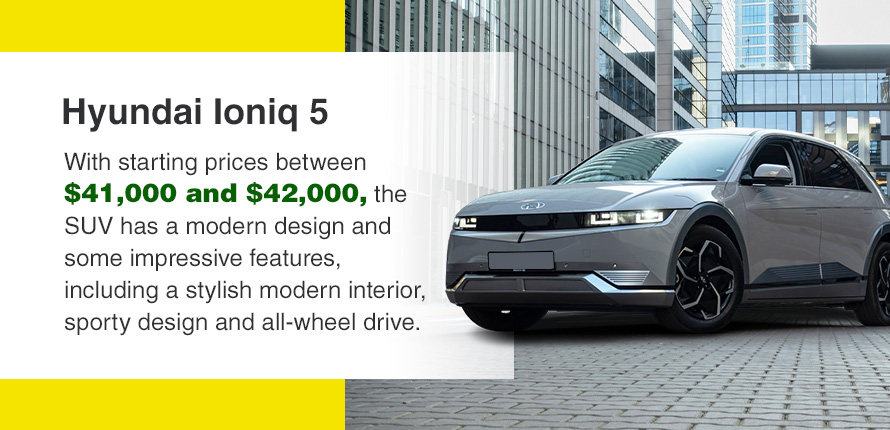 6. Hyundai Ioniq 5
The Hyundai Ioniq 5 is an affordable SUV in the EV range. With starting prices between $41,000 and $42,000, the SUV has a modern design and some impressive features, including a stylish modern interior, sporty design and all-wheel drive. The Ioniq 5 is excellent for a comprehensive and cost-effective electric SUV. It also offers an EPA-estimated 226-mile range and a large charging capacity. Other features include:
Dual motor
Maximum towing range
Spacious interior
7. Hyundai Ioniq 6
If you want the aesthetic appeal of the Hyundai Ioniq 5 with extra range, the Hyundai Ioniq 6 sedan could be your perfect choice. The Iconiq 6 offers standard and long-range options. The standard Ioniq 6 starts at $42,000, delivering an EPA-estimated 240-mile range, while the long-range option offers an estimated 361 miles. Though the Ioniq 6 is less agile than its predecessor, it provides more interior cargo space and an extended range at an affordable price. Other features include:
Larger battery (53.0k Wh)
Enhanced rear-wheel drive
8. Kia Niro EV
The Kia Niro EV offers impressive range, slick design and high performance, making it a worthwhile choice. You can pay between $39,000 and $40,000 for this electrified hatchback. The Kia Niro boasts an EPA-estimated 253-mile range and two trim levels. You can select between hybrid and plug-in hybrid variants. It also has various appealing characteristics like fast charging rates, satellite navigation and a touchscreen. Other noteworthy features include:
Comfortable interior
Driver assist technology
9. Volkswagen ID.4
The Volkswagen ID.4 is an excellent option if you want a versatile EV. The Volkswagen ID.4 comes with a spacious interior and comfortable drive, perfect for family trips, daily commutes and offroading. Starting prices for a standard model vary between $40,000 and $42,000, making it an affordable option in the SUV range. It also has a driving range of up to 209 miles. The ID.4 has a sleek interior and high-performance battery (58 kWh pack). Other perks include:
Wireless charging
Touchscreen infotainment systems
All-wheel and rear-wheel drive options
Heated driver and passenger seats
10. Tesla Model 3
The Tesla Model 3 is one of the most affordable options you'll find on the market today, with prices starting at $41,000. The midsized sedan has instant acceleration, high performance and self-driving ability for a comfortable and efficient ride. It offers a 272-mile range for standard rear-wheel and all-wheel drive variants. The Model 3 is ideal for anyone looking to experience a Tesla at a reasonable price.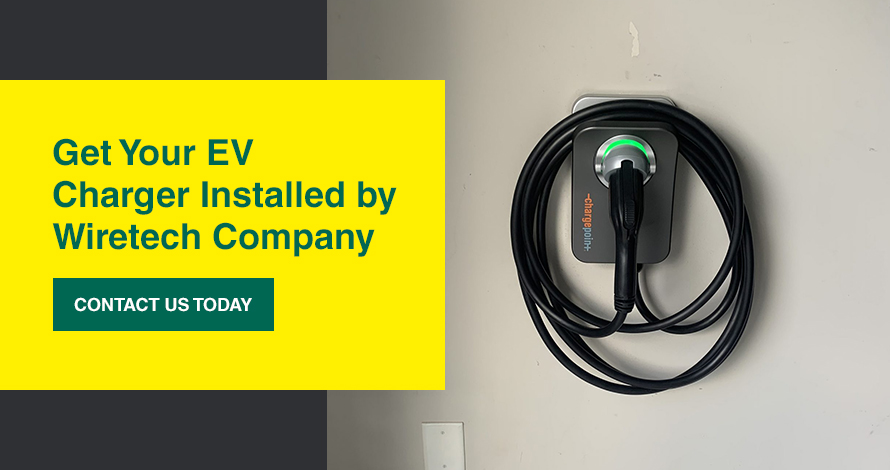 Get Your EV Charger Installed by Wiretech Company
Buying your first electric vehicle requires essential considerations like the best at-home charging system. While many at-home charging systems are available, you want to ensure you have a suitable and reliable EV charger. That's why Wiretech offers quality EV home charger installations.
We also install several charging systems to meet your needs. Our team of high-qualified technicians are experts in their craft and provide excellent customer service. We offer financing options to make the cost of an EV even more economical. Wiretech is the Tesla-referred installer in Raleigh, N.C., servicing numerous homes in the area. We are also certified EV installation providers of brands like LG Energy Solution, Qmerit and Span.
Contact us today to set your home up for your new electric vehicle with an at-home charging station.
Linked Sources
https://www.tesla.com/support/certified-installers?productType=homecharging
https://wiretechcompany.com/electrical-repairs/electric-car-chargers/
https://wiretechcompany.com/contact/
https://wiretechcompany.com/2023/07/06/costs-of-ev-carching-stations/
https://wiretechcompany.com/2020/08/20/why-switch-to-an-electric-vehicle/
https://www.counterpointresearch.com/global-ev-sales-q1-2023/#:~:text=%E2%80%9CBy%20the%20end%20of%202023,to%20significantly%20increase%20this%20year.
https://www.counterpointresearch.com/global-electric-vehicle-market-share/
https://www.vw.com/en/models/id-4.html
https://www.kia.com/us/en/niro-ev
https://www.hyundaiusa.com/us/en/vehicles/ioniq-6
https://www.hyundai.com/worldwide/en/eco/ioniq6/highlights
https://www.hyundaiusa.com/us/en/vehicles/ioniq-5
https://www.hyundaiusa.com/us/en/vehicles/kona-electric
https://www.hyundaiusa.com/us/en/vehicles/2024-kona-electric
https://www.mazdausa.com/vehicles/mx-30
https://www.miniusa.com/model/electric-hardtop.html
https://www.nissanusa.com/vehicles/electric-cars/leaf.html
https://www.chevrolet.com/electric/bolt-ev
Unlinked Sources
https://wiretechcompany.com/2020/09/10/plug-in-hybrids/
https://www.caranddriver.com/features/g40605495/cheapest-electric-cars/