If you own an electric vehicle (EV), having an EV charging station in your home is a convenient way to ensure your vehicle is always ready to go. With an EV charging station, you also have the option of installing it inside your garage or outside your home. While deciding whether you want to place your EV charger inside or outside your garage will vary depending on your needs, there are benefits and drawbacks to both location options.
Types of At-Home Charging Stations
There are two options for home EV charging stations. The first is level 1 chargers which are 120-volt stations and take eight to 12 hours to reach a full charge. For most vehicles, you can drive between 2 and 5 miles for every hour of charging.
Level 2 EV charging stations are typically 240 volts and offer a faster charge time. For most vehicles, a Level 2 charging station lets them go between 10 and 40 miles for every hour of charging.
Once you decide if you want a Level 1 or 2 station, your next step is determining whether indoor vs. outdoor home EV chargers are best for your needs.
Benefits of Indoor Charging Stations
Most experts in the EV industry recommend EV owners install their at-home charging stations indoors. Even if you do not have room to charge your vehicle in your garage, you can install the charger inside and run the cord outside. The main benefit of an indoor electric charger is that it will offer protection from the weather, animals, and other people to extend the life of your charger.
Benefits of Outdoor Charging Stations
If you install your charger outdoors, you can feel confident it will remain in excellent condition against rain and snow storms. The cord is also waterproof and will create a watertight seal when you connect it to the battery port.
One of the most significant benefits of a Level 2 charger is you can install it closer to where you park, so you will not have to worry about running a cord from your garage to your vehicle.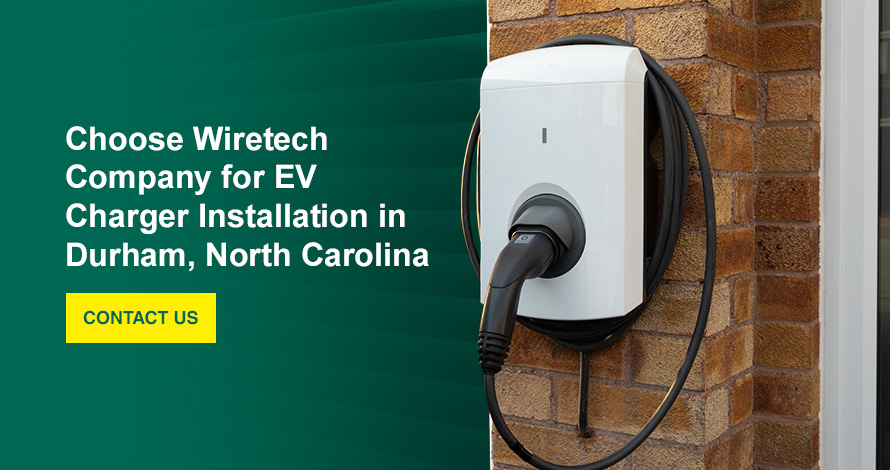 Choose Wiretech Company for EV Charger Installation in Durham, North Carolina
If you're looking for a certified team to help with your at-home charger installation, the Wiretech Company team is here for you. We are one of the top EV home charging installation services in Durham, North Carolina, and we look forward to helping you decide whether it is best to install your charger inside or outside your home. To learn more, we invite you to contact our team today!