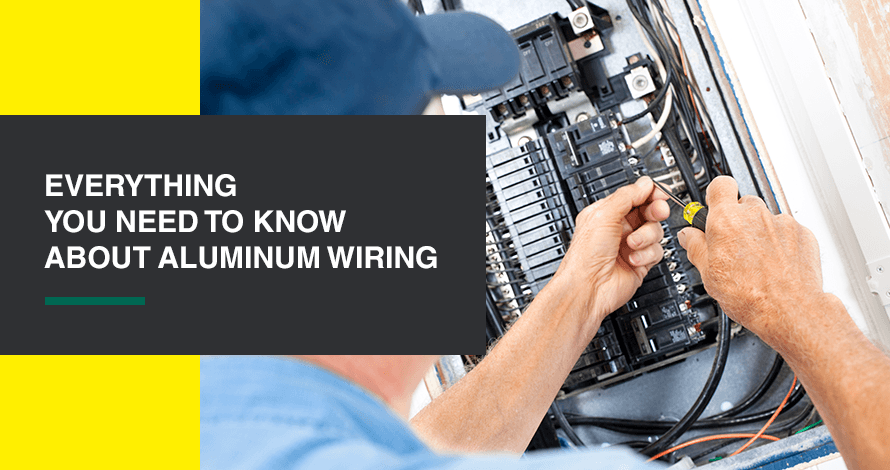 If you own a home, you need its features to be as safe as possible. The National Safety Council reports that in 2018, 37.6 million Americans suffered severe, preventable injuries in their homes, and another 125,000 Americans died of such injuries. You need dependable construction and reliable safety controls in your home to keep yourself and your loved ones protected.
Part of ensuring that protection involves checking on your electrical wiring. In particular, you'll want to know whether your home has aluminum wiring and whether it is safe. This guide will let you what aluminum wiring is, what challenges it may pose in your home and what to do if you suspect you may need to replace it.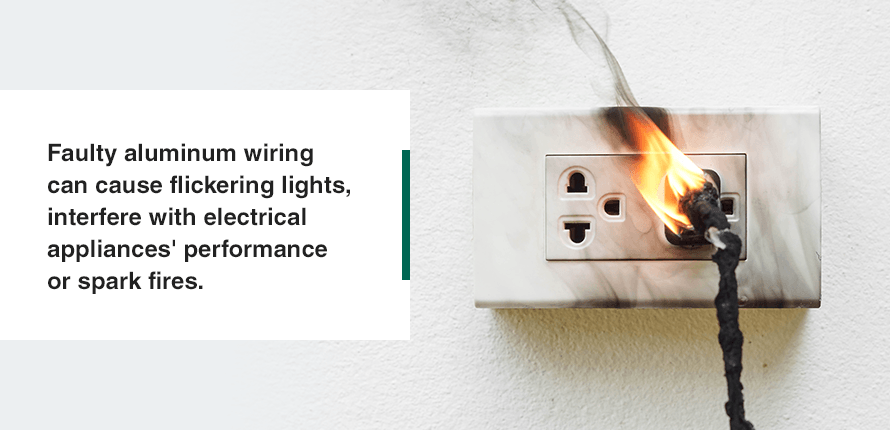 What Is Aluminum Wiring?
Aluminum wiring is electrical wiring that uses an aluminum alloy rather than copper.
Aluminum differs from copper in some of its physical properties. It is softer and less conductive than copper, and it expands more when it becomes hot. Aluminum also oxidizes more readily than copper, and when it does, it forms an oxide layer that conducts electricity poorly.
Aluminum wiring comes with some unique considerations you will need to keep in mind as you decide how to maintain your home.
Damage vulnerability: Because aluminum is softer than copper, it is more susceptible to damage during installation. Especially where aluminum wiring connects to light switches, outlets and other wires in a home's junction boxes, this damaged wire can sometimes pose a fire hazard.
Poor connections: Because aluminum expands more than copper does, it can sometimes cause connection issues within a home. When aluminum wiring expands and contracts, it can disconnect from the screws holding it in place. This improper connection can lead to poor electrical performance and overheating.
Oxidizing and overheating: If aluminum wiring oxidizes, its poor conductivity can also lead to overheated circuits.
In some houses, the aluminum wiring functions perfectly for many years, especially if the home contains specialized connectors that help prevent the issues we've discussed. In others, faulty aluminum wiring can cause flickering lights, interfere with electrical appliances' performance or spark fires.
When Was Aluminum Wiring Typical in Homes?
Aluminum wiring is characteristic of homes built from the mid-1960s to the mid-1970s. In the 1960s, copper prices rose sharply, starting the decade at about 29 cents per pound and skyrocketing to about 76 cents per pound by 1966. Aluminum is generally less expensive than copper, so using copper rather than aluminum wiring allowed construction companies to lower their expenses and pass those cost savings on to homebuyers.  Even though copper prices have continued to increase in recent decades, construction companies and contractors have relied more on copper wiring because of its superior performance and safety benefits.
If you live in a home built in the 1960s or 1970s, it may have aluminum wiring. If you suspect aluminum wiring in your home's construction, you may want to begin thinking about whether to put in additional safety features or replace it with copper wiring. Wiring that has been in use for so long may now be starting to degrade, even if it has previously worked without issues, so getting a head start on replacement can save your home from electrical problems and damage.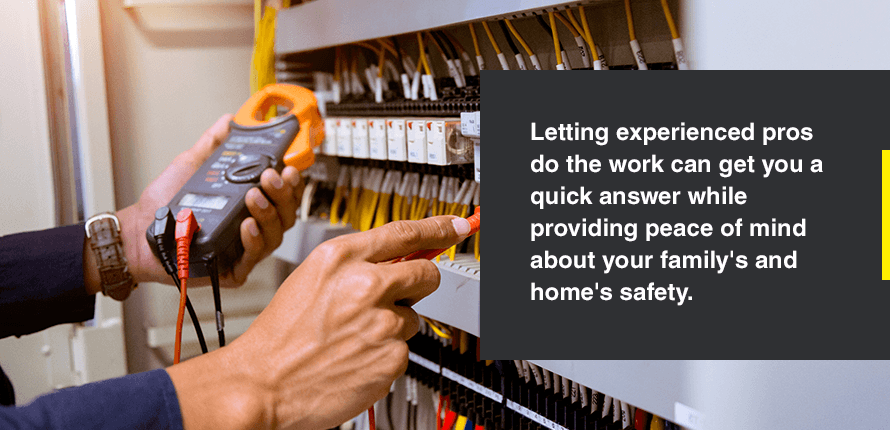 How Can You Identify Aluminum Wiring?
One of the first signs your home may have aluminum wiring is that its electrical features fail to perform as well as they should. You may notice your lights flickering, or feel a warmth coming from your light switch cover plates. You might also observe scorch marks on the insulation covering your electrical wires or on the backs of your outlets if you remove them.
If you suspect your home contains aluminum wiring, you can sometimes start looking into the issue yourself. Check your electrical panel, or look at the electrical cables you can find in your home's basement or attic. You may see the word "aluminum" or an abbreviation like "alum" or "al."
What if you cannot find a label on your electrical wiring or are otherwise unsure how to identify aluminum wiring in your home? The best step is to call in professionals for an evaluation. Homeowners can perform a more thorough inspection, but doing so can be hazardous. Letting experienced pros do the work can get you a quick answer while providing peace of mind about your family's and home's safety.
Once you decide to contact professionals for a complete electrical safety inspection and wiring replacement, expert electricians can determine what kind of wiring you have and ensure overall electrical safety. Over a few hours, they will perform the following services in your home:
Checking all receptacles and switches to ensure proper connections and operation
Checking that all light bulbs have the correct wattage
Inspecting all arc fault circuit interrupter circuit breakers and ground fault circuit interrupter receptacles or circuit breakers for proper connections and performance
Inspecting carbon monoxide detectors and smoke detectors for proper operation and replacing batteries as needed
Making sure all additional equipment, such as the service panel and the air conditioner disconnects, functions as it should
Ensuring the entire house has the correct grounding
Identifying the makeup of your home's wiring if necessary
Replacing Aluminum Wiring
You might discover that your home contains aluminum wiring and decide you would like to switch to copper. Fortunately, replacing aluminum wiring is relatively straightforward. You will need to have the professionals come back in and remove every piece of aluminum wiring from your home. The technicians will then replace the aluminum wiring with copper cables.
Alternatively, you might choose to repair your copper wiring instead by having special connectors added to each piece of wiring. Using AlumiConn® connectors is one appealing solution. AlumiConn connectors are specialized components that connect short copper wires to the ends of each of your aluminum wires. Afterward, your existing aluminum wires still carry your home's electricity from place to place, and the short copper wires safely make all the electrical connections in your home. This repair solves many of the safety and performance challenges associated with aluminum wiring.
One of the main advantages of this type of repair is its cost-effectiveness. Adding AlumiConn connectors is more economical than rewiring your entire home. However, the ideal solution for you will depend on the specifics of your house and its wiring, so you'll want to talk to your electrical experts to determine which method would be better for your home.
Once you've added connectors or replaced the aluminum wires with copper, your home's wiring will have increased durability, conductivity and protection from overheating. You'll gain superior electrical performance and be able to rest easily, knowing you've enhanced safety for your home and your family.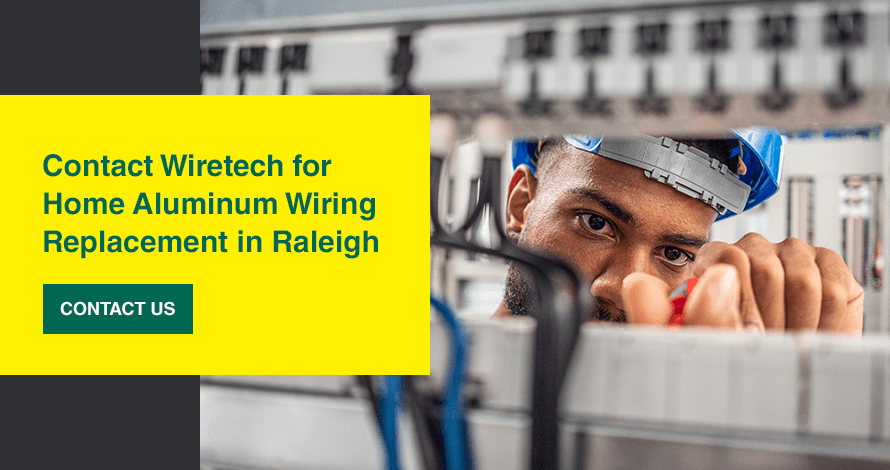 Contact Wiretech for Home Aluminum Wiring Replacement in Raleigh
When you need aluminum wiring replacement for your home, make Wiretech your trusted service provider. Our experienced professionals have the industry expertise you need to ensure a safe and correct replacement. We also offer a five-year full-service warranty and 24/7 electrical service and repair, so you'll get quick, convenient help with your electrical wiring when you need it.
Contact us today to schedule an appointment or learn more.