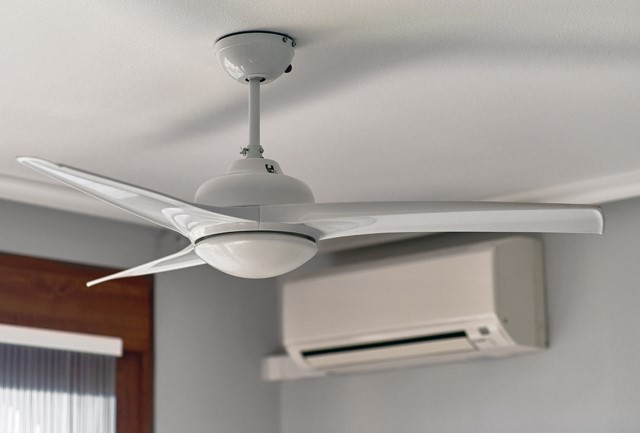 Your home's ceiling fans are important for regulating a room's ambient temperature and sending air up or down to help make your space warmer or cooler. They help keep your electric bill down; especially when used in conjunction with your AC and heating units.
Through constant use; your fan will eventually accumulate dust and dirt which may start to affect its performance if left unchecked. Because of this, your fan will need proper care and maintenance on a regular basis.
The good news is that maintaining your fan is not that hard. Here are some maintenance tips to help you out:
Keep it clean – The easiest way to achieve optimum ceiling fan performance is by keeping your fan clean. Use a dry fan brush for initial cleaning; then switch to a damp cloth that has been soaked in soapy water for thorough removal of sticky stains and stubborn caked dust. Use a vacuum for the motor; pointing the nozzle at the vents to suck out dust on the inside. Do this at least annually.
Keep it lubricated – Lubricate your fan with light oil regularly. There is usually an oil hole located at the upper side of the motor which must be filled up. Wipe excess oil with a rag or some tissue paper. If you're not sure how to proceed; have this done by professionals instead.
Keep it running smoothly – Check your fan for any wobbling, noise, swaying, or shaking: these may be signs of loose screws, loose blades, missing parts, warped or bent blades, or fan imbalance. Tighten any loose screws, and use a fan balance kit when applicable. If you need help; then leave the repairs to the pros (like us).
Taking good care of your ceiling fan is a great way to keep your energy costs low. Have it inspected by qualified service technicians at the first sign of trouble; and turn it off when no one is in the room.
Wiretech Company can help give your home energy-efficient upgrades. We also offer services that help you lower your electric bills and make the most of your appliances; such as ceiling fan installation and repair. Call us up at 919-372-4438, email us at talk2us@wiretechcompany.com; or contact us online to find out about our complete list of residential electrical services.