Michael Lashley has been with Wiretech since 2011. He was hired as an electrical technician and now serves as our Field Supervisor/Estimator. I sat down with Michael last week to ask a few questions – check out what he had to say!
Q: How long have you been doing electrical work?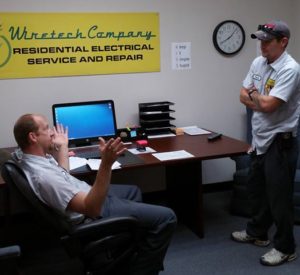 A: I sparked my electrical career at the early age of three with my dad's key chain and a non tamper proof receptacle. I started doing actual electrical work part time when I was sixteen with two different electricians. I began full time employment in 1994 after my first year of college for electrical engineering. I have been gainfully employed full time in the electrical field ever since.
Q: We know that you were once doing work in the field. What differences do you see from being in the office full-time opposed to doing the field work?
A: Office work is quite different from electrical field work. In field work there is satisfaction in encountering challenging installations and overcoming inherent obstacles with real time solutions. The challenges I encounter in the office deal more with personnel, customers and moneys. There is still satisfaction in overcoming issues but without the reward of completed physical installations. Responsibility is the main difference. In the field I was mostly responsible for a safe and code compliant installation and myself. The transition to the office makes me responsible for much more, our customers and our employees, as well as all of our installation. Luckily I still have Wiretech Company founder and owner, Mike Jones to help shoulder these responsibilities.
Q: Where do you see Wiretech Company in the next five years?
A: To ponder the question of where Wiretech Company will be in five years is both dreamy and known. Wiretech Company will still be in business in the Raleigh area continuing the current 25 years of operation. Wiretech Company will have grown with the industry and market needs. We will have doubled the number of full time employees and have crews dedicated to specific types of electrical installs. We will be more efficient and profitable, this will provide better benefits to our employees whom are critical to our success.
Q: What are some of the new electrical things going on?
A: Electrical Safety is always evolving and the NEC (National Electrical Code) addresses issues and updates every three years. We are seeing new requirements for continued use of GFCI's and AFCI's. New sections of code dedicated to solar power and electric vehicle charging as these become more mainstream. Wiretech Company has been approved as a recommended installer for TESLA electric vehicle charging.
There ya go, folks! The mind of Michael Lashley, Field Supervisor/Estimator.
Also, just a little fact for you, May is Electrical Safety Awareness month. If you have – or even think you might have – an electrical issue in your home, don't ever hesitate to call our office to schedule a Home Safety Inspection. It could possibly save your house and your life!